Celebrating Arbor Day by Exploring the Importance of Richmond's Trees
Happy belated Arbor Day, Richmond! Fall is the best time of year to plant trees here in Richmond, so our Arbor Day celebration is held in October rather than on the traditional date of April 30.
This year's Arbor Day is particularly special, as the newly-formed Richmond Tree Commission is giving away over 10,000 FREE native eastern redbud trees to Richmond residents. You can learn all about the project – from the opportunity to volunteer to distribute the trees, to where and when you can pick up your free trees, to how to take good care of your new tree – here: https://www.reforestrichmond.org/arbordayrva-about
In the spirit of tree expertise, we asked Eli Podyma, Community Forester at Virginia Department of Forestry, to write a blog all about the importance of Richmond's trees, which we know are concentrated in particular areas compared to others, based on a history of urban planning policies that codified existing neighborhood characteristics like less tree canopy and more impervious surfaces. Let's learn from Eli!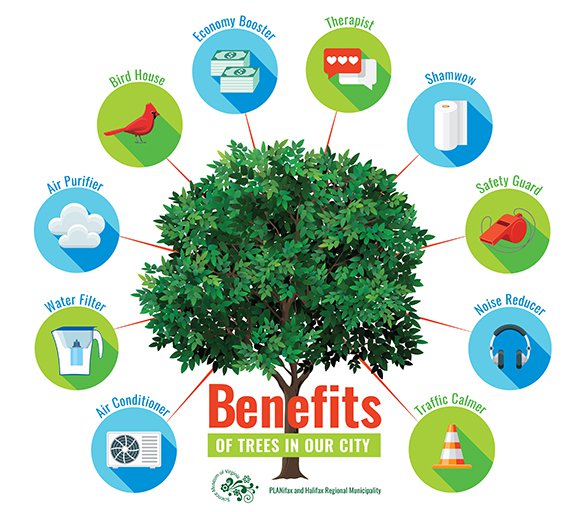 The Arbor Day holiday recognizes the importance of trees, and is a great opportunity to learn about Richmond's trees and how they are managed using urban forestry.
The way forestry works in an urban place like Richmond is much different than the traditional forestry practices you might have in mind. When you think of a forester, you might picture a plaid-clothes lumberjack crosscut-sawing a redwood in California or on the Loblolly pine plantations of the Coastal Plain and Piedmont regions of Virginia. These traditional forestry practices are focused on producing goods to be sold, such as wood pulp and lumber, while managing and replanting the resource.
At the heart of every forestry practice is the goal of preserving and maintaining forests for future generations. Forestry that is focused within cities and towns, known as urban forestry, is no different. However, instead of achieving this goal through the sustainable harvest and replanting methods used in traditional forestry, urban foresters often undertake careful planning, planting and maintenance of a much smaller number of trees. These trees tend to be scattered throughout heavily populated areas, which complicates both planting and maintenance efforts. With fewer trees within a given area, the need for proper care and maintenance of any individual tree is drastically more important in urban settings.
Like us, trees need occasional health assessments (like a physical) and targeted care (like a medication). These efforts are usually overseen by a certified arborist. Arborists are tree care experts (tree doctors!), and can only become certified by passing an exam and gaining a certain amount of education and practical experience. While it is possible to be both an urban forester and an arborist, these are actually two distinct professions: foresters manage land uses for trees on a large scale, while arborists provide specific and skilled care to individual trees.
Urban foresters and arborists must also take the human element into account when planning and maintaining urban forests. Do local residents prefer one species of tree more than another? Does this tree produce fruit that will be a nuisance to clean off the sidewalk? Does the species planted around this parking lot tend to drop limbs when it gets older, possibly causing damage to the vehicles parked underneath? These questions and others like them are a regular aspect of urban forestry.
With so many different factors playing into each urban planting, you might wonder: how does an urban forester know which issues to focus on? The answer is community engagement.
Ultimately, planting trees is for the benefit of local residents and their environment, so community input is vital in planning these projects. An excellent example of a community-engaged tree planting project is the Virginia Commonwealth University Office of Sustainability's Carver Tree Project. Alongside residents, a team made up of the Carver Area Civic Improvement League, Richmond's Urban Forestry Department, the Tree Stewards and the Virginia Department of Forestry developed and implemented a plan to plant 63 trees in Carver to increase their canopy cover and reduce the heat island effect. Carver residents were involved in deciding where the trees would be located, and what trees would ultimately be planted. Plans with this level of community engagement are key to successfully managing urban forests in an equitable way.
Now that we've covered urban foresters, let's discuss the trees themselves. Urban forests provide a wealth of benefits to their community. Some of the benefits of trees are obvious: their fruit and seeds provide food for urban wildlife, pollinators collect nectar and pollen from their flowers, and they help clean the air we breathe through photosynthesis. Other benefits are less apparent. The shade from trees can reduce utility costs in the summer by keeping buildings cool. Their roots hold on to soil, preventing erosion and filtering groundwater. This removes pollutants that might otherwise find their way into our water supply.
Moving up from the individual scale to the community level, canopy cover provided by the trees in cities can help reduce the urban heat island effect, keeping residents healthier in the hot summers we have here in Richmond. Speaking of health, having access to green space has been shown to improve mental health in addition to the physical benefits - right here in Richmond! From reducing air pollution and erosion, to providing food for local wildlife, to even changing local climate, urban trees have a tremendous positive impact when they are incorporated into our cities.
In Richmond, we are fortunate to have a community of dedicated non-profit groups, private citizens and a local government that values urban trees and the benefits they provide. The Virginia Department of Forestry also plays an important part, providing everything from technical planning assistance to educational programs. There are even cost-share and grant programs through the Department of Forestry that can help defray the cost of trees for individuals or organizations. Through these programs we have helped to fund tree plantings throughout the city, and have hosted trainings for local arborists on treatment techniques for a variety of tree pests and diseases.
Trees will only grow around 12-25 inches per year on average, no matter how well mulched or watered they are. Because of this, urban forestry plans must always prepare for the future. As a part of the Richmond 300 master plan, the city has set a goal of achieving 60% tree canopy by 2037, with at least 30% canopy in every neighborhood in the city. Equitably increasing canopy cover throughout the city's neighborhoods will ensure that Richmond's residents are all sharing in the benefits.
As a community, we need to continue to participate in these projects and help plan ahead for the growth of our urban forest. No matter who you are, you can get involved: attend a public meeting, learn about volunteer opportunities in your neighborhood, and if you can, plant a tree this fall! Together, we can ensure that Richmond stays a healthy and beautiful city for generations to come.
The Museum is hard at work helping you to discover your world despite dramatically reduced financial resources. If you'd like to help us continue this work, click here to learn how.