Project Engage: Inspiration Abound
Inspiration is a tenet of the Museum. Staff consider how inspiring our efforts are for each guest every single day. All the demos, at-home activities, astronomy shows, exhibits and makerspace workshops are created and offered to inspire Virginians to enrich their lives through science.
But, that inspiration isn't one way. It isn't always about what the Museum is doing to inspire others. Sometimes Museum staff draw inspiration from community projects and citizens we encounter.
Project Engage is just such an initiative. Its creators showcase collaboration, perseverance, creativity and courage -- many of the quintessential qualities of successful scientists.
Museum volunteer and Douglas Freeman High School sophomore Ishita Bakshi, along with her sister, Ria, a Maggie Walker High School senior, sat down to explain Project Engage, a virtual educational platform developed by teenagers and designed for elementary school-age students.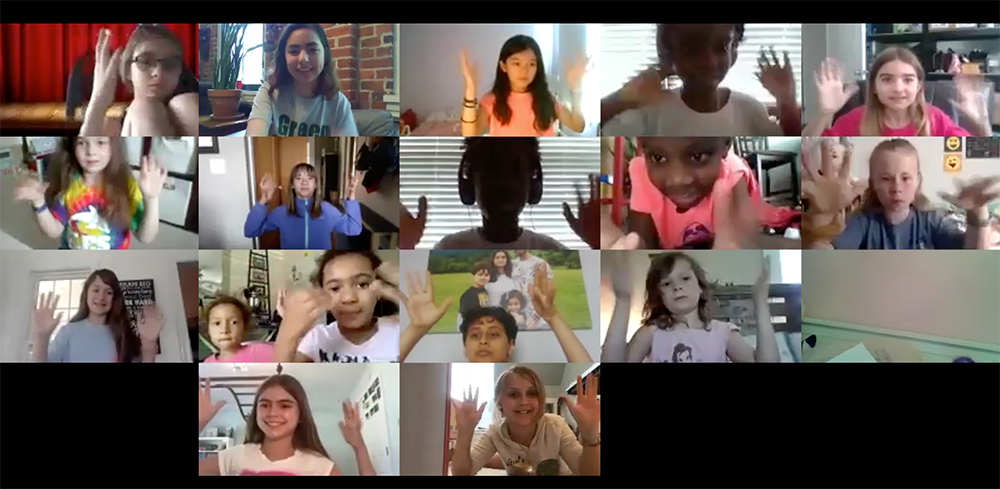 Q: How did the idea for Project Engage get started?
Ria: As soon as quarantine started, four rising seniors at Maggie Walker High School started talking about how we all missed school, and how we were surprised about that. School does a good job of bringing students together, giving us the opportunity to be intellectually creative, have guided discussions and work collaboratively on projects. Plus, it lets us be social.
Several of the students have younger siblings and they realized that the younger kids were sad because they didn't have anything to do or any way to engage with their friends. We had one call and decided we needed to build a website using Weebly. We wanted to offer classes that were educational and fun, but we also wanted to put an emphasis on a structural environment where kids can socialize. This is where the name came about.
The goal of this effort is to engage younger kids in a more meaningful way, emulating how school does that. We also realized we didn't have anything better to do so it was good for us, too. It's about connecting older kids to younger kids because we're all just kids!
Ishita: I wasn't one of the original founders but got a behind-the-scenes look as I watched my sister and her friends come up with this idea. It was cool because it started off small – they were thinking just a couple of classes – and then I watched it grow and grow as they got more ideas, instructors from others schools and classes going. It's been nice to see how them all working together has built this into a community.
Q: How did signups go when you started, and how are they going now?
Ria: When we first started, signups were painfully low. For the first half of May we just worked on promoting the project everywhere. We emailed principals, we sent stuff around to mom Facebook groups, we contacted the TV stations. We also started a couple of social media accounts to get the word out.
The very first class we offered was in May. It was Trivia Time and had a game show vibe. In August, we had 15 classes running. In total, we've had 19 unique classes. We've had some classes with four kids, and have had up to 28 in others. The registrations fluctuate based on the time the class is offered and the topic. On average, we probably have 12-15 kids per class. That's a good number to let kids meet each other and have the opportunity to talk during the class.
Q: What types of classes does Project Engage feature?
Ria: The classes are more like extra circular or afterschool activities, things you wouldn't find elsewhere. The instructors have very specific -- and really awesome -- skill sets! Now we have coding, dance, marine biology, sports science and American Sign Language classes. We rotate the classes based on what the instructors want to teach and what we think will be new and fresh for the students.
I'd say our classes are formal and informal. The instructors do plan what they are going to teach, but if the students show an interest in something, we will look that up and learn more about that topic.
Ishita: Asking for the student input and having the students help guide the conversations makes the students care a lot more because they are learning about something they wanted to learn about. It's also more fun for the students to have a say in what the instructors teach.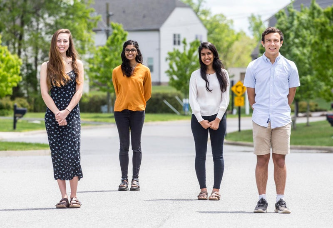 Q: Tell me about the students and instructors. 
Ria: We stopped keeping track of the official number of students but it's upward of 250, and we have had more than 2,800 registrations. We've had more than 20 different instructors teach classes. We are not just focused on the Maggie Walker community as instructors anymore, which we were in the beginning. Now our instructors live in Powhatan, Henrico, Chesterfield, all over – and so do our students, which I think is really cool.
When we started this, we didn't think we'd have this many returning students. But as we've gone along, that's become one of the things that's most important about this project.
Ishita: It's adorable to see kids who didn't know each other before a class — all different ages and go to completely different schools — but they'll become friends doing these classes together. It's like having a quarantine buddy to talk to online and do stimulating things with.
Q: Are all the instructors teenagers?
Ria: Yes. We've had a few college students contact us and say they'd like to help out but we wanted to keep it high school age, not only because we thought it would fit everyone's schedules better but also because we thought communication would be better with the students.
Ishita: Being close in age to the students adds a lot, actually, because even if it's just a couple of years it takes on a peer mentor type of relationship. The students ask you a ton of questions, they want to get to know you and find out what's going on in your life, and they find it really interesting. It's not just about engaging the kids, but you're also creating a buddy system where you have an older mentor thing going. The instructors have connections with students, and the students make connections with instructors.
Ria: Parents have emailed us and told us that we are good role models for the students. Students find it more casual and easier to interact in class if the instructor is a teenager. But, even though they are teenagers, the instructors fully take control of the class and manage the students well. We are a 501©3 nonprofit, which allows us to give out volunteer hours. That also helps us recruit teenager instructors because they are getting their required hours in while having fun teaching students about something they like.
Q: Have you had any bumps along the way?
Ria: When we started it was just the four of us. We were doing everything by ourselves and there were so many little details. Each founder had to teach their own class, manually send confirmation emails, talk to parents and answer questions when people contacted us for help with Zoom (which was almost a 24/7 thing when the classes were running) so that very quickly became too much for us. So, we put out an application on our Instagram page asking for help.
The first time we decided to add instructors and classes we went from four classes to around 12. It was a very big jump. That actually put us back at square one because we were worried about if we would have enough students to full the classes. That was definitely the right move, adding those extra instructors, because it not only brought in more people to engage with from all different ages and places, but it also allowed the original founders to step back and do more of the administrative stuff, which was a very good bump to overcome.
Ishita: Introducing new instructors also introduced a lot of new classes because those instructors brought new ideas. The more people you have in on the project, the more minds you can get flowing. Anything the instructor was interested in could be added onto the project, and I think that is a really good thing.
Q: What are you most proud of about this project?
Ria: Originally we had the idea that we would have these classes and have kids pay for them, and that was how we were going to raise money for the Central Virginia COVID Relief Fund. Very soon after we started we realized that we don't want money to be a barrier to these educational resources, especially in a time like this. We decided to do away with the prices for classes and added a donation feature. We redirected ourselves and put the project more in an educational light, which was actually really great because now we've raised more than $5,000 through donations, from some grants and from a Go Fund Me to cover some of the operational costs.
Donating to that particular fund is one of the strongest foundation points for our organization. Our idea came about because of the pandemic, and we wanted the work that we are doing, and the money we are raising from it, to go back into our own community where the instructors and students live.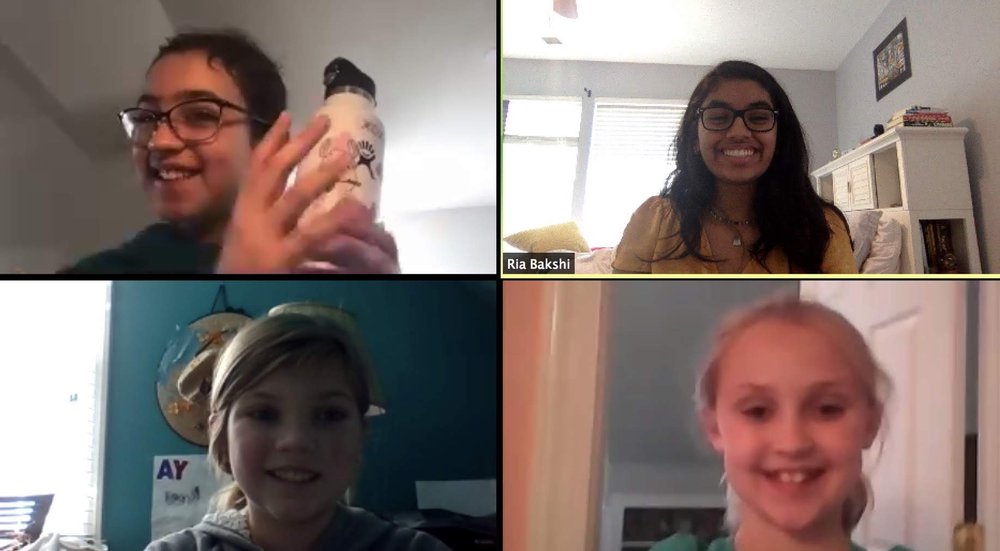 Q: Is this something that you've seen other communities do, or have you had anyone copy this idea?
Ria: We have another team in New Jersey that's working on taking our model that we implemented here in Richmond and doing essentially the same thing there. They aren't really connected to us, we've just shared what has worked for us with them.  
Q: This project exposes children to a diversity of perspectives and people they may not be getting in a traditional school setting. How do you feel about that?
Ishita: There is a lot of diversity among the instructors, and that's great to see. I had mostly white female teachers in school. But the Project Engage instructors come from all over, and all ethnicities, so it creates a different environment than what you get in school. It's bigger than who you live around or who's in your neighborhood, which is great exposure for everyone.
Ria: That plays into how our classes are based on the instructor's interests and capabilities. We offer American Sign Language because we have two instructors who are passionate about it, they love the language and the deaf community and they know a lot about it. We've also had Japanese and German. By offering those classes (which isn't offered at a lot of traditional schools), they can impart that knowledge onto the younger kids, and expose them to a different group of people they may not have ever interact with before. We were actually just talking the other day about adding a Bollywood dance session. That would be really fun to teach them new moves and styles, and not something you have space for in traditional schools or get in some communities.
I love the diversity of the instructors, but I also love the diversity of students, too. Removing the fee helped us get students from all different backgrounds, and has helped them keep coming back to lots of classes. Yes, you could always go to one class, but if you want it to be a consistent thing, you need to make it consistently accessible. And that feeds into the name, Project Engage, as now these kids are friends and they go to classes together.
Q: Do you think Project Engage helped bridge the gap this spring and summer for students who are learning fully virtually this fall?
Ishita: I think Project Engage offered the chance to get used to a Zoom-type platform, and gave younger kids the chance to get used to talking to people electronically and making friends online. It probably helped speed up the process of them being ready for virtual learning in the fall.
Ria: Since we have classes back to back, and we share the same Zoom account, we do have a tight schedule. We have some students who love Project Engage and they go to every class every day. That is helped condition them for virtual learning because they got used to learning and sharing through Zoom while switching subjects on a schedule.
Q: Now that school has started, are Project Engage classes or registrations changing?
Ria: Each school is doing something different right now, including my own! We plan on continuing to offer classes throughout the fall, because again, these are extra circular classes that don't overlap what kids are learning about in school. We're moving them to the afternoons and evenings, and could possibly offer some on weekends.
Q: This one's for you, Ishita. How has volunteering at the Museum helped or influenced your work with Project Engage?
Ishita: At the Museum, my volunteer work has me interacting with mostly younger kids. My favorite place to be stationed is next to the bees in the EcoLab. There are a ton of kids that come through there, and they always ask so many random and creative questions about all sorts of things … and they always expect answers! With that, I've learned sometimes you don't have all the answers, and you don't have to have all the answers. You can just have a conversation by bouncing questions back and forth. That's beneficial, too. That's helped me with teaching for Project Engage because I now realize it's a teamwork thing. It takes both of us to have the conversation or discussion.
I also see similarities in the Project Engage students and the children who visit the Museum. They are interested and excited to learn, and are engaged in what we're doing and ask lots of questions.
Q: How has your experience with Project Engage impacted or changed what you want to do in the future?
Ria: I want to go into the medical profession, but I'm also interested in art and I've always enjoyed working with kids. The Project Engage experience has shown me that I like a more longer-term interaction with the students instead of a one-time meeting and then parting ways. I enjoy creating connections with the younger kids, and it's making me think maybe I should pursue pediatrics. 
Ishita: I don't really know that Project Engage has changed what I want to do in the future because I really have no clue what I want to do right now, but I think it has helped me learn a set of skills I haven't really learned in school, like project organization, communication skills and a better understanding of technology. Those will probably be helpful no matter what profession I chose.
The Museum is hard at work helping you to discover your world despite dramatically reduced financial resources. If you'd like to help us continue this work, click here to learn how.