UVA Students Ditch Lab Coats for White Aprons for Child Development Studies
When guests visit the Science Museum, not only are they exploring various aspects of science, but on select weekends they can also participate in scientific research.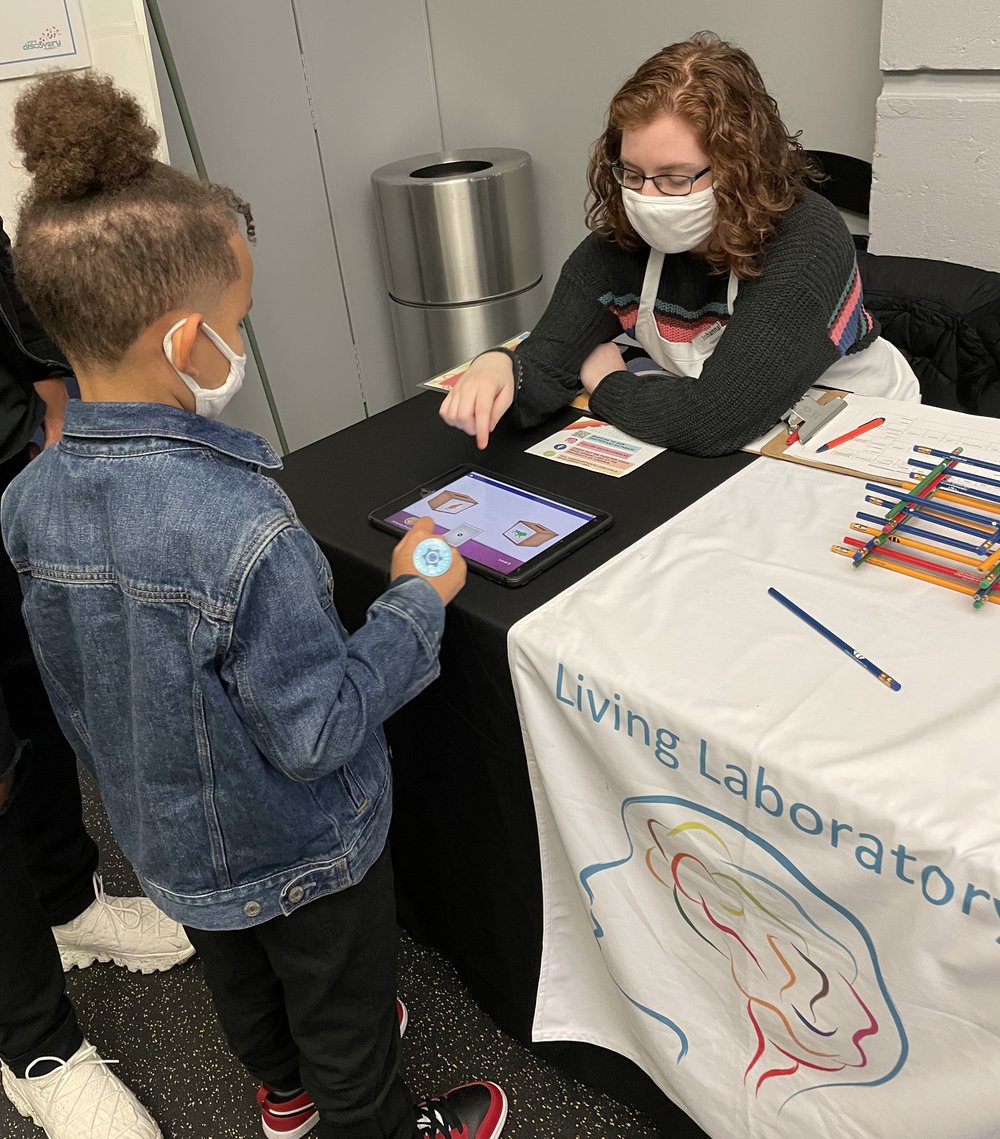 A UVA Living Laboratory student working with a Science Museum guest in November 2021.
The Science Museum and the University of Virginia's Living Laboratory are partnering to collect child development data. So, how is a lab living? "It's alive. IT'S ALIVE!" No, no. Nothing like that. It involves curious and energetic young children … just the kind we have in our building!
The Living Laboratory model was developed in 2005 at the Museum of Science in Boston and supported by the National Science Foundation. The national initiative helps researchers and informal science educators collaborate to study young children's learning and development. Scientists in disciplines including developmental psychology, cognitive science, educational psychology, cognitive neuroscience and social psychology recruit participants and conduct studies at a museum rather than in a clinical or formal lab setting.
UVA created their Living Laboratory program in 2015. Research assistants and graduate students from four different developmental psychology labs assist with in-person data collection. After working with the Virginia Discovery Museum in Charlottesville for several years, the UVA team wanted to branch out to other communities. Enter: the Science Museum of Virginia in Richmond!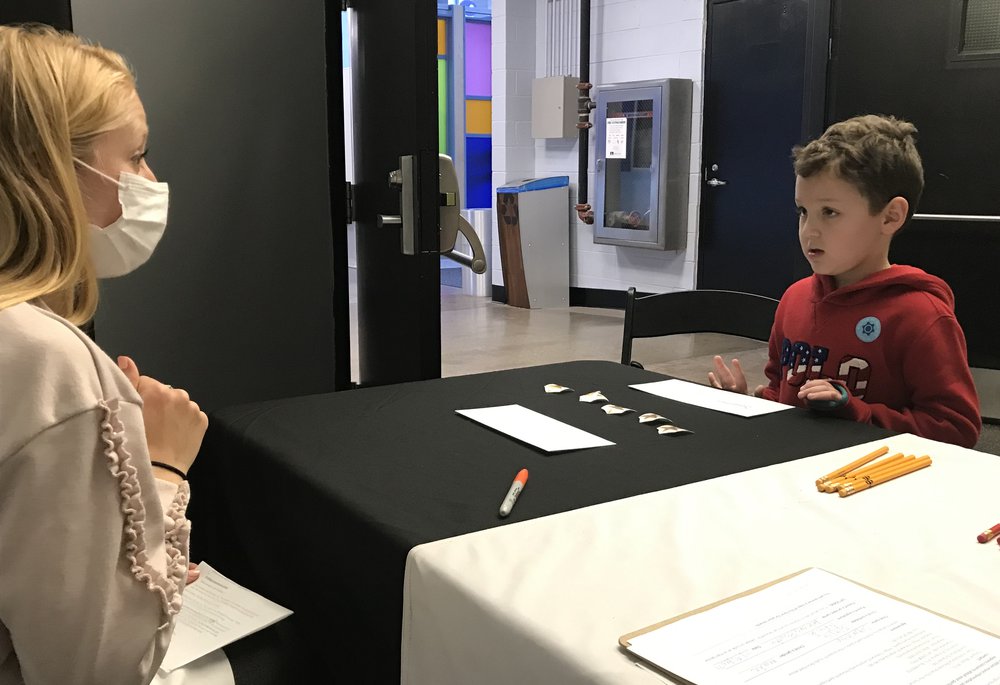 In January 2020, the Science Museum hosted a small team of researchers from the UVA Living Lab for their first on-site study. The students came on a weekend, set up a table and asked grownups if they would let their children play games with them for few minutes.
What seemed like a fun and simple exercise for the child about sharing stickers or interacting with nature was really a treasure trove of data for the observing researchers. Less than 10 minutes is all the students need to study how kids think and learn about the world. The information they collect is added to the robust body of child development scientific knowledge, and is used to develop age-appropriate benchmarks for emotional health, social skills and cognitive-linguistic capacities. When a pediatrician tells parents their baby will respond to emotion in others around six months of age, can show empathy at 19 months and will exhibit signs of parallel play at age two, that information comes from numerous studies of the biological refinement and behavioral maturation of kids. Simply put, that means watching what young children do in certain situations can teach us a lot about how children behave more generally.
But collecting the data in only one part of the Living Laboratory mission. A huge component of the initiative is fostering public awareness, engagement and understanding of the scientific research process.
The thought of scientists doing studies on their children doesn't always have droves of parents beating down the doors of the developmental psychology labs to volunteer. Whether out of fear, lack of awareness they're taking place or simply the logistics of scheduling a special trip to the UVA lab, the team sometimes has difficulty finding a large, diverse group of volunteers. By meeting families where they already are—an outing to the Science Museum—researchers have had the opportunity to engage many more families in research. Three happy smiley 20-somethings in white aprons at your favorite science center don't seem nearly as intimidating as the image people conjure in their mind of the eccentric mad scientists depicted in books and movies.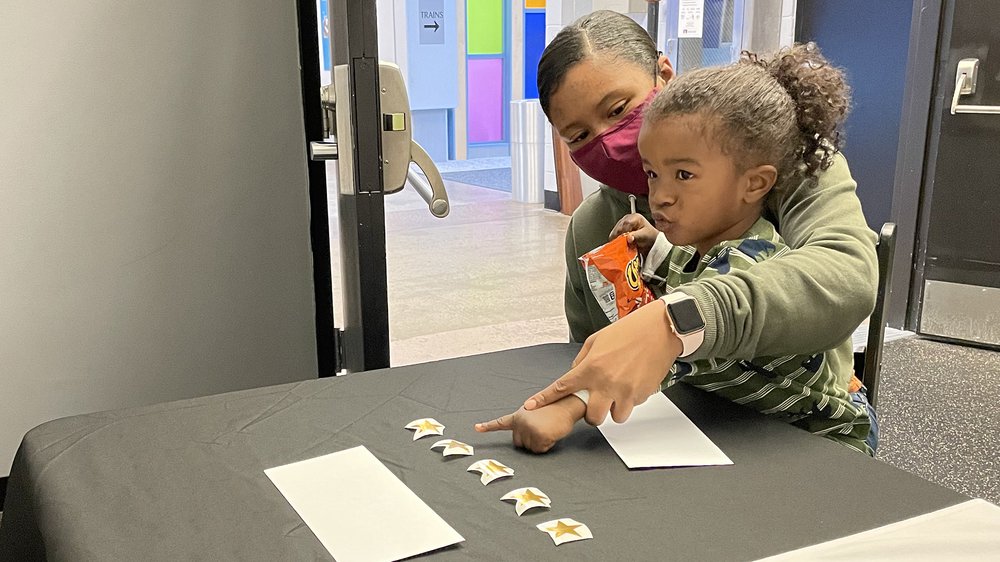 Removing the mystique of research is important for both UVA and the Science Museum. Building trust in science among the general public takes transparency, visibility and communication. Caregivers and children get to speak to the UVA researchers conducting these studies directly to understand how the data is collected and how it is used in a variety of aspects of daily life. They are also able to learn about other studies being conducted at universities and museums across the country through the Living Laboratory program. This interaction is critical for the students, too, who are honing their interpersonal skills so they can become better science communicators and advocates throughout their careers.
The UVA students have been back to the Science Museum several times this fall, and will continue to visit throughout the winter. The information they collect will be shared with the Science Museum, which we hope to use to inform future content and exhibitions.
While the origins of the quote are widely debated, the words ring true in this case: "Tell me and I forget, teach me and I may remember, involve me and I learn." Real-time access and participation in a UVA Living Laboratory study while at the Science Museum might give those in your party a new appreciation for the importance of science in all our lives and ignite a spark in your six year old that turns them into the next Dr. Mamie Phipps Clark, Jean Piaget or Mary Ainsworth.