Model Railroad Show Features Restored Architectural Embellishment from Original Train Station
Posted: November 23, 2020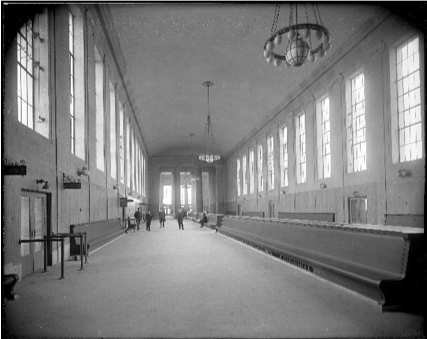 The Science Museum of Virginia's favorite Thanksgiving weekend tradition is back for the 43rd year … the Model Railroad Show presented by Dominion Energy! While some aspects of the event will look different this year to help limit the spread of COVID-19, one piece will look very familiar, especially for anyone who took a train out of Broad Street Station before the building became a Museum.
What does that mean? At the Model Railroad Show this year, a newly restored architectural embellishment, original to the building, will be on display.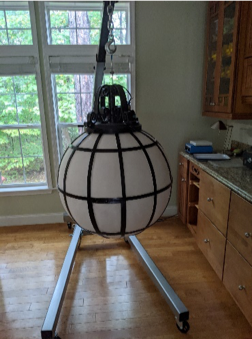 Thanks to the generous support of the Roller-Bottimore Foundation, Elmon B. Duff Charitable Lead Annuity Trust and Ms. June Guthrie, Object Conservator Russell Bernabo was able to expertly restore one of four chandelier globes that previously hung in the main concourse of Broad Street Station when it was a passenger train depot.
Measuring over 2.5 feet in diameter, the globe is made of 48 curved milk-glass panels secured by metal mullions. Although it would have been suspended independently, the globe is meant to be a centerpiece and would have been encircled by a steel ring, featuring 14 smaller spheres. Fully assembled, the chandelier measures about 7 feet in diameter and weighs hundreds of pounds!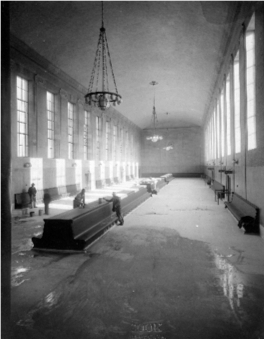 This design suggests celestial symbolism. With the mullions serving as latitude and longitude lines, the globe represents a planet or sun within a constellation or solar system surrounded by planets or stars. Simple yet grand, these chandeliers embrace the Neoclassical style chosen by New York architect John Russell Pope in the early 20th century. Pope's other notable designs include the Jefferson Memorial, the National Archives and part of the National Gallery of Art in Washington, D.C.      
Interested in viewing this beauty in person? Then come visit us for the 43rd Annual Model Railroad Show at Broad Street Station November 27, 28 and 29! Remember to call ahead or order tickets online in advance since no walk-up tickets will be sold at the Museum.
P.S. If you want to learn more about Broad Street Station, here are a few pieces from when the building celebrated its centennial in 2019. We also covered another major train-related conservation, restoration and preservation project previously on our blog. 
Historical images are courtesy of the Cook Collection, Valentine Richmond History Center.