April is the perfect time to head out into nature. Not only is it when we celebrate Earth Day and Arbor Day, it's also Stress Awareness Month.
In a previous post we explained how spending time in nature has positive mental health benefits. We also know that physical activity increases our mental alertness, energy, and positive mood. Plus, taking a stroll in the sunshine will help your body convert a protein from ultraviolet rays into vitamin D3, which can help boost your immune system. Since we already covered the science behind those topics, we thought we'd have staff and volunteers share some of their favorite spots to bike, hike, and just simply observe the natural world.
Here are the submitted suggestions for trails across the state. Hopefully these personal anecdotes will inspire you to lower stress and increase activity while appreciating green spaces in our commonwealth. Also, while you're there, be sure to look and listen for the native flora and fauna.
Discovery requires action, so grab some water and snacks and hit the trails!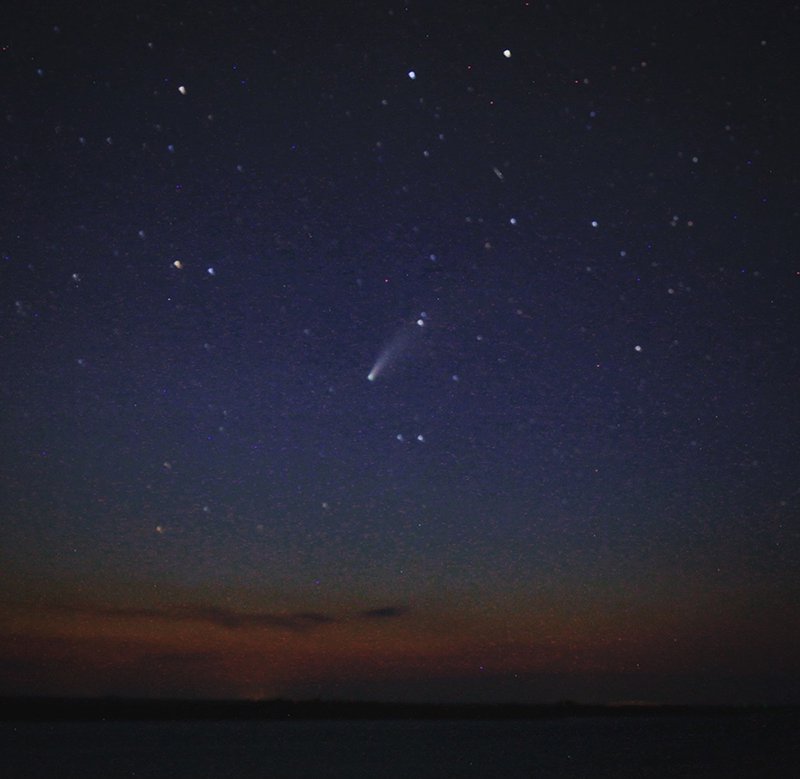 Image courtesy of Prabir Mehta
Kiptopeke State Park
Prabir Mehta, Content Producer
Kiptopeke State Park on the Eastern Shore is one of my favorite spots. For Virginia camping enthusiasts, this is a great place to check out for a secluded and beautiful experience. There are several trails to explore and there's an osprey observation deck. Plus, it's only a short drive from Cape Charles. For astronomy photo geeks, it's a good distance from mainland light pollution, which makes it an excellent place to catch some nighttime photos. That's where I got a shot of comet NEOWISE last year! Virginia definitely has beautiful mountains, rivers, and forests for sure, but the Eastern Shore is truly a unique gem.
Hollywood Cemetery
Pat Murphy, Science Museum of Virginia Foundation Director of Finance
It may sound strange to some, but Hollywood Cemetery – also a registered arboretum – is one of the best walking spots in the City of Richmond. Dating from 1849 and designed in the rural garden style, it is characterized by 135 acres of rolling hills and valleys with winding paths overlooking the James River. The huge variety of trees – from flowering crape myrtles to stately elms – is an arborist's dream, and even novice birdwatchers can enjoy regular sightings from bald eagles to hummingbirds. If you relish peace and nature, you'll enjoy the sights and birdsong as you wander the paths. (Even the rumbling of an occasional freight train rolling by the river seems soothing.) On occasion, you might spy some of the resident foxes or deer that tend to stay hidden until nighttime. Hollywood has some of the most inspiring, beautiful views of the river and the city you'll find anywhere. Not to mention the history that surrounds you. More than a cemetery, this spectacular outdoor museum is a living story in stone, iron, and landscape. From family walks and picnics when my children were growing up, to visits now at my daughter's final resting spot on the hillside by the river, to soul-cleansing long walks along the paths, I find it a joyous, beautiful, LIVING place and a reminder that each day is a precious gift.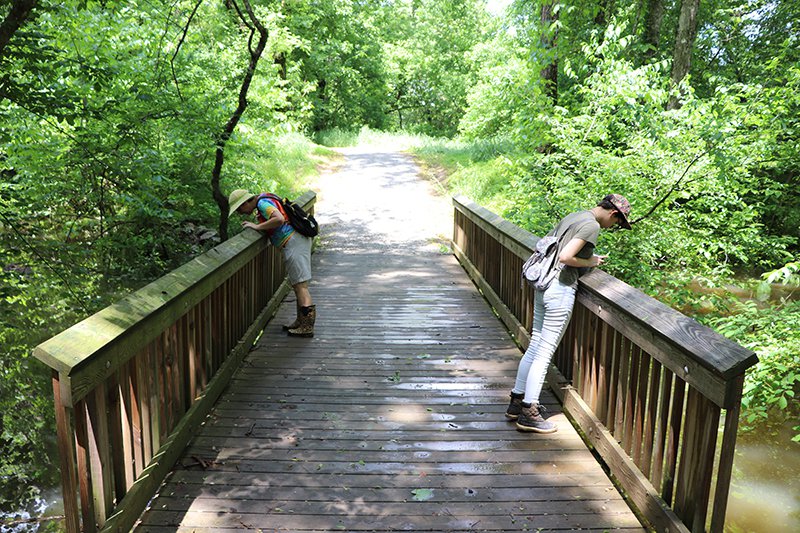 Image courtesy of Sara Farnor
Powhatan State Park
Sara Farnor, Museum volunteer
Powhatan State Park provides a little something for everyone, from casual campers to adventurous mountain bikers. Personally, I prefer the laid-back approach. My favorite time there was when I took an easy-going hike with my mom and my sister. The river was very high and the trails were slick; we kept slipping, but thankfully none of us fell. We discovered so many cool little details about the fields, the woods, and the creeks that we hiked over and through. We saw millions of beautiful flowers, millipedes, and massive hanging vines that looked like they were straight from Tarzan. What made that trip special was we were "one with nature" together.
Pony Pasture
Karen McKenzie, Assistant Director of Education
I love Pony Pasture trail in James River Park. Although it's not long, it's perfect for me and my aging pup. She doesn't need a super long trail, and because she gets car sick, I need something close to home. Although it sometimes gets crowded on summer days, I like to explore the small meadow section and the wetlands area, which are less so. I've seen foxes, huge bucks, pileated woodpeckers, and various other wildlife. When you are amongst the trees and hear the James River waters in the background, it's hard to believe that the city is so close. When I want a hardcore trail with an elevated view, this isn't it, but it fits the bill for a nice unwinding at the end of the week.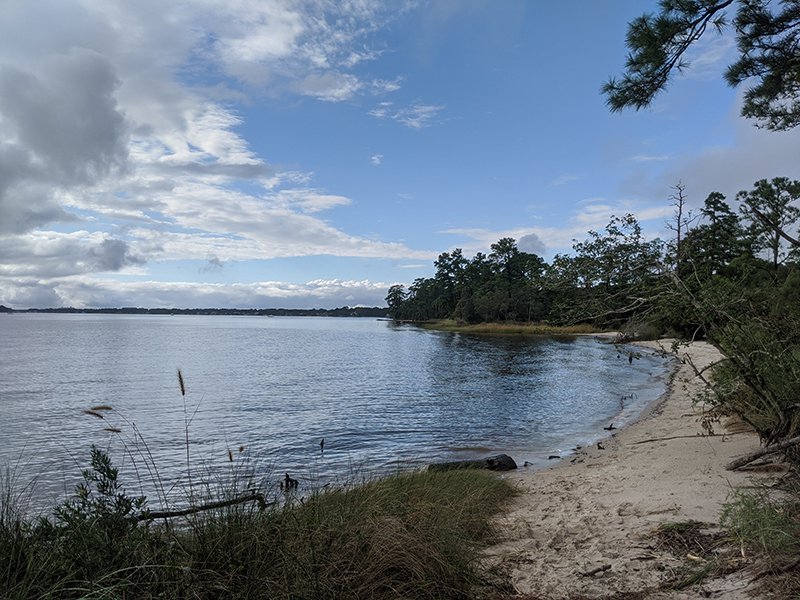 Image courtesy of Elli Bosch
Cape Henry Trail at First Landing State Park
Elli Bosch, Science Content and Research Specialist
I love the Cape Henry Trail at First Landing State Park in Virginia Beach for the variety of vistas and ecosystems you get to enjoy on your way. The Cape Henry Trail is more than six miles long one way. I'll admit I didn't know this when I hiked it the first time! With a few "side quests" I ended up making a 14-mile loop to get back to my campsite all in one afternoon. It was an unexpected adventure, but well worth it! Taking the Cape Henry Trail, you will pass through cypress swamps, salt marsh, and forests. If you choose to make a loop like I did, I suggest walking back to the Osprey Trail, and make sure to bring your binoculars! If you keep west on your way back to the visitor center you'll be able to dip your feet in Broad Bay as the trail seems to disappear into it depending on the tide. I highly suggest this for your next adventure!
Crabtree Falls
Charles Winnagle, Museum volunteer
Crabtree Falls is Nelson County is the perfect spot: scenic, shady, safe, and an easy hike up to the mouth of the falls. This is a state treasure tucked back into the mountains. The upper body of the river runs at the base of the falls. Plus, parking and toilets are available on site.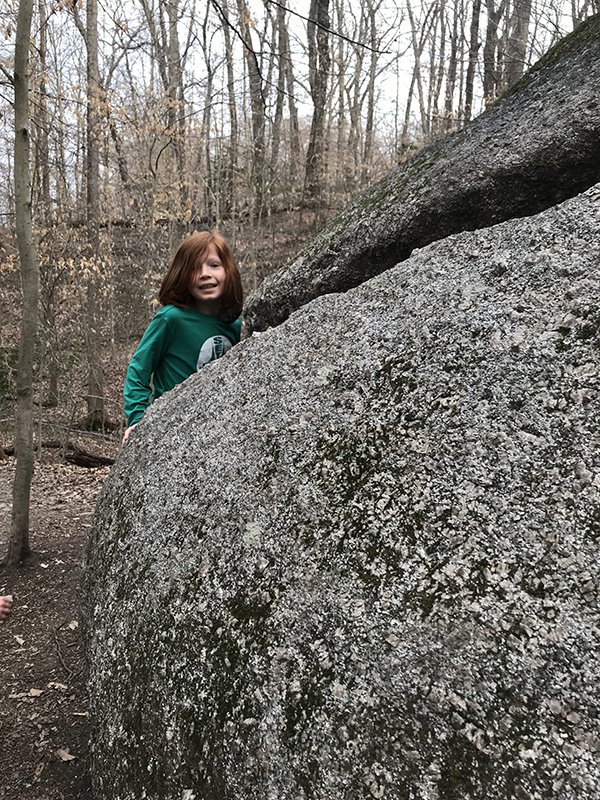 Image courtesy of Jennifer Guild
Lewis G. Larus Park
Jennifer Guild, Manager of Communications and Curiosity
My family likes hiking at Larus Park, which is located at the edge of the City of Richmond and North Chesterfield just off Huguenot Road. There are some parts that require extra effort, but for the most part it's a manageable hike for my elementary school-age boys and can easily be accomplished in a few hours on a nice afternoon. There are large rocks for the kids to climb and a creek for them to play in. (Since there's water, which is always enticing, bringing a change of clothes isn't a bad idea if you aren't going straight home in case there's an accidental slip.) While this trail is in the city, you'll quickly be engulfed by nature and be able to enjoy Mother Nature's glorious scenery.
Wilson Trail
Dr. Catherine Franssen, Scientist in Residence
My current favorite trail in Virginia is the Wilson Trail on the historic campus of Hampden-Sydney College. The Wilson Trail is three miles of wooded trail (with a couple of loops to extend your hike or bike if you'd like) and includes gentle hills, gorgeous streamside scenery, and the ruins of an historic mill. It's a hidden gem, a quiet escape mostly used by locals and college students. Nearby Farmville offers all the makings of an awesome day or weekend trip, including fantastic restaurants, breweries, shopping, hotels, loads of history, and – if you're up for more hiking, biking, or riding – the famous High Bridge trail, which passes right through town.
Dogwood Dell
Dr. Jeremy Hoffman, Chief Scientist
I love Dogwood Dell in Richmond because there are hiking-only and biking-only trail loops, and it is probably one of the least-explored (low-traffic) trails in the James River Park System. The hiking trail winds along the creek that flows down into Pumphouse Park (which is an added attraction to check out!), and the mountain biking trail is extremely flowy, fast, and one of the coolest spots in the city. Also, during our Urban Heat Island project, we observed the lowest temperatures in the entire city during a heat wave in 2017 within the deeply shaded recesses of the Dogwood Dell trail!