Citizen Science Month: A Community Celebration
Many people know Earth Day is this month (4/22), and some may know Arbor Day (4/30) is also celebrated soon, too, but did you know the entire month is also Citizen Science Month? Now you do!
Citizen science, also known as community science, is a collaboration between scientists and public volunteers to gather new knowledge about the world. You don't have to be an expert to get involved, all ages can participate, you can do it as frequently as your able, and the information you help collect helps everyone. Bonus: many of these projects encourage you to get outside and explore your neighborhood, and April usually has great weather for that!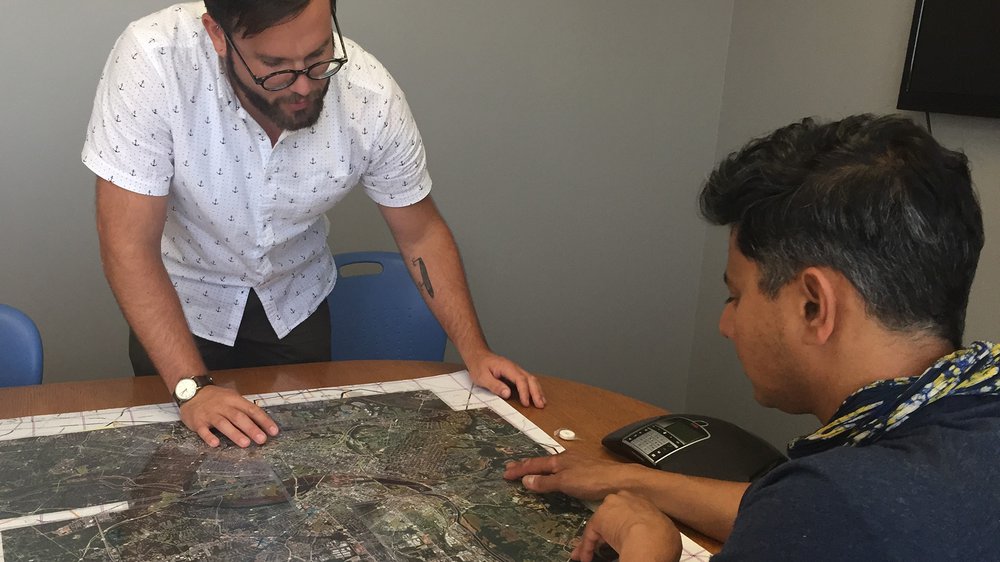 Collaboration during the Throwing Shade project.
The Museum has embraced community science over the years. The 2017 project Throwing Shade mobilized volunteers and partners from around Richmond to evaluate urban heat vulnerability. Data collected by these diligent volunteers (some high school students!) helped us show that temperatures in Richmond during a heat wave can vary as much as 16 °F from the coolest to the warmest places. This data continues to be extraordinarily helpful in various related research projects as well as when making decisions that benefit Richmond residents, such as where to plant trees and incorporate more greenspace.
Our most recent project, RVAir, is studying air quality in Richmond neighborhoods and, just like the Throwing Shade project, we need you! Individuals and community partners can help us measure local concentrations of airborne pollution known as particulate matter (PM), a mixture of microscopic particles in the air that has been linked with cardiovascular and respiratory diseases. All you have to do is walk around the city with a hand-held sensor. Yes, it's that easy! To learn more about this Institute of Museum and Library Services-supported project, check on upcoming dates, and sign up, visit smv.org/learn/rvair.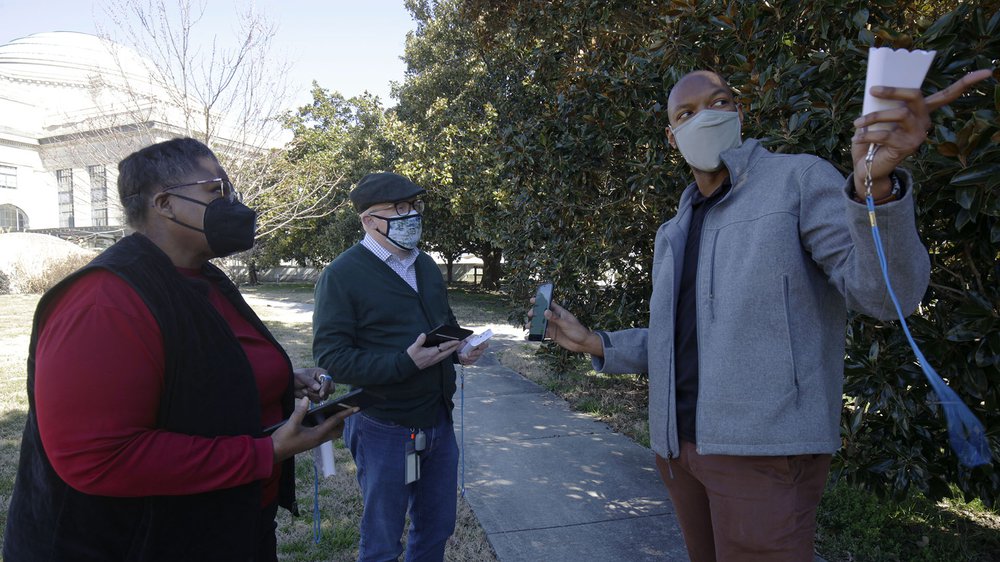 RVAir air quality sample collection.
Why stop there?! April weather is beautiful, we've been stuck inside for such a long time, and some extra physical activity is good for everyone! Another community science project you can get involved in this month is the City Nature Challenge. Started in 2016 by citizen science staff at the Natural History Museum of Los Angeles County (Lila Higgins) and California Academy of Sciences (Alison Young), the City Nature Challenge is an international effort for people to find and document plants and wildlife in urban environments across the globe.
Life finds a way — even in urban environments — and citizen science projects such as this challenge are helping fill in a gap of scientific data on urban wildlife and plants. It's designed as a friendly contest to engage city residents as they compete with each other to see who can make the most observations of nature, who can find the most species, and who can engage the most people! In 2020, 224 cities took part and made a total of 815,258 observations. Think of all the future discoveries that could potentially come from that data!
This year the City Nature Challenge takes place April 30 through May 3. Participants collect data using the iNaturalist app. iNaturalist is a free and easy-to-use smart phone application that helps you log observations. Just take a picture of the plant or an animal you want to observe, and upload your observation into the iNaturalist app. The app does most of the work for you by attempting to identify your species as well as logging the time, date, and location. But wait … there's more! You can also record sounds (such as bird calls, frog sounds, and insect chirps) and upload sightings without an image. Although observations without an image are not always as scientifically useful, they are still important to record!
To participate in the City Nature Challenge, you'll need to link your iNaturalist account to the project closest to you. There are several taking place in Virginia, including some in the greater Richmond area! In the app, go to the projects section and search for Greater Richmond City Nature Challenge 2021 to join the effort. Once your data is in the app, scientists and other users from around the globe will look at what you've uploaded and make edits and suggestions, including confirming or clarifying an identification based on their research.
Fascinated by clouds? Want to help investigate trees and land cover? What about helping track the spread of mosquitoes? You can contribute to all of these research projects using the GLOBE Observer app! GLOBE Observer is an international network of citizen scientists and professionals working together to learn more about our shared environment and changing climate. The app is super easy to use and another great reason to get outside!
One final project to share is the Silent Earth Project established by an astronomer with NASA. This project's goal is to map the quietest places on Earth. In May 2020, the project organizers encouraged people around the globe to collect data in their neighborhoods during the pandemic. The virtual shut down of many major cities significantly altered their sound patterns and levels, thus creating quiet oasis in areas that typically experiences much louder city sounds. As our world continues to open up further, those sounds are returning. The project is ongoing and you can help contribute by downloading the Anecdata app onto your phone and joining the Silent Earth project. The app walks you through the process of collecting sounds.
Community science is an interesting and impactful hobby. There are thousands of different projects to try, from classifying galaxies, identifying and recording local cloud cover, tracking the flu, and more. There is something to interest everyone! Plus, we're never going to run out of things to study as there's always something new out there to discover in this great big world and beyond. To search for projects that interest you and get started contributing to science, check out Scistarter, Zooniverse, and GLOBE Observer.
Let's celebrate the importance of STEM in our lives by working together to gather new knowledge about the world. Not only does citizen science create a stronger connection to your community, but it also helps all of us better understand what's going on around us. In fact, it's so exhilarating it might make you wish every month was Citizen Science Month!