Muscle Pain, Rocking Chairs, and the First Woman Physician to the President
Women have been making strides in medicine much longer than most people probably realize. The oldest medical text to have been written by a woman is On the Diseases and Cures for Women by Greek physician Metrodora (c. 200-400 CE). Since then, hers and other women's medical writings have informed and helped with the treatment of millions of people. This leads us to someone we want to highlight, who you may not know, but whose impact can still be seen today.
You might be asking yourself, "what do Metrodora, muscle pain, and rocking chairs have to do with anything?" The answer is one Dr. Janet G. Travell, a US physician and researcher who became the first woman to hold the office of Physician to the President.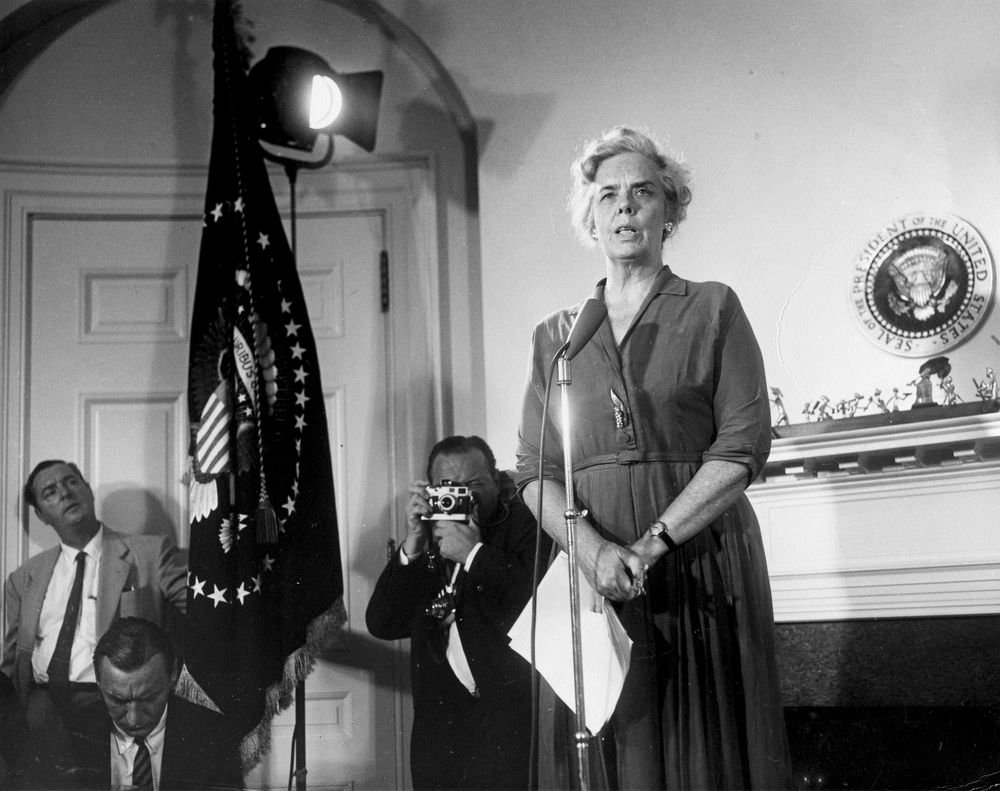 President John F. Kennedy's physician Dr. Janet G. Travell briefs the press on the president's illness, June 22, 1961. Credit: Abbie Rowe. White House Photographs. John F. Kennedy Presidential Library and Museum, Boston
From Cardiology to Myofascial Pain
Janet Travell was born December 17, 1901 in New York City, and would become another member of a family of doctors. Her father, Dr. Willard Travell, was a general practitioner before he started studying pain relief and X-ray therapy, and her older sister, Dr. Virginia Weeks, was a pediatrician. In 1926, Travel earned her medical degree from Cornell University Medical College. Her relationship with her father was integral to her career, as the two inspired each other and often worked together on research.
Dr. Travell originally planned to be a cardiologist. She was a consulting cardiologist at Sea View Hospital in New York for a time, and would later join the cardiovascular research team at Beth Israel Hospital to study arterial disease. It was during this time that she started to develop an interest in muscular pain. While helping patients with other issues, they would often complain of more intense pain from certain areas of their bodies. Dr. Travell was able to isolate specific hypersensitive trigger points that would cause pain.
Eventually, Dr. Travell made the move to focus on musculoskeletal pain. Through these years she began the work of identifying and researching what would be her career-defining work on myofascial pain syndrome.
Physician to the President
So why talk about Dr. Travell today of all days? Well, it just so happens that she became the first woman to be Physician to the President 60 years ago today on January 26, 1961.
Dr. Travell first met Senator John F. Kennedy in May 1955 when he was referred to her care for his chronic pain. Her medical expertise was so critical to Kennedy's health that he and many others seriously believed that he never would have become president without her help. Therefore, he refused to change doctors when he was elected president, and Dr. Travell agreed to be the White House Physician in 1961.
The Physician to the President, also known as the White House Physician, was an office officially created by an act of Congress in 1928. (The Museum's very own building, Broad Street Station, has been around even longer!). The White House Physician is not only responsible for the care and well-being of the president, but oversees care for the president's family, the vice president and their family, and potentially anybody who sets foot in the White House.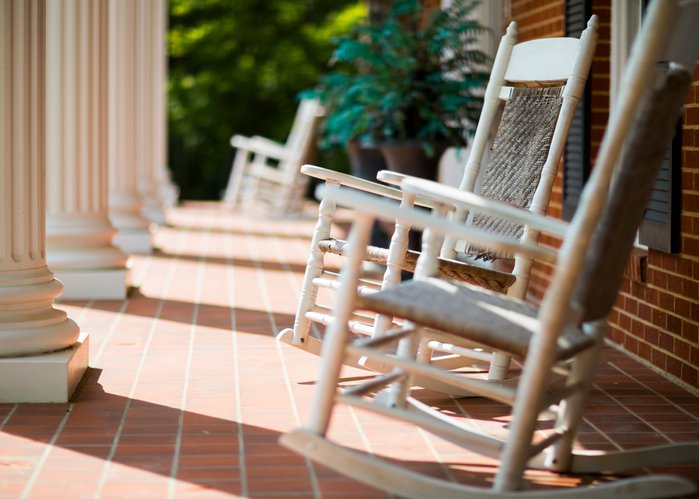 Image Credit: Getty Images
For John F. Kennedy specifically, Dr. Travell was able to alleviate many of his health-related woes. She discovered one of his legs was shorter than the other, and made him get shoe inserts to help. She even prescribed the use of a rocking chair to help with his back pain, something that President Kennedy famously placed in every location he could, and which led to them being popularized with the greater public. After President Kennedy's assassination in 1963, Dr. Travell stayed as White House Physician under Lyndon B. Johnson until 1965, when she left in good graces to further her research.
Myofascial Pain and the Trigger Point Manual
Myofascial pain syndrome (MPS) or chronic myofascial pain (CMP) is a chronic pain disorder affecting the musculoskeletal system where specific points on a muscle (trigger points) will often create great pain in that area or seemingly unrelated areas of the body. Symptoms can include muscle spasms, tender spots, muscle knots, and chronic fatigue.
Dr. Janet Travell is generally said to be a pioneer in the study of MPS, even creating the concepts of trigger points after observation and study. Through her research she helped discover trigger points in 32 skeletal muscles, as well as more than 200 other possible trigger points. Dr. Travell developed new techniques to treat muscle pain through injections into the muscle, massage, dry needling (similar to acupuncture), and vapocoolant sprays (short-term anesthesia via evaporation-induced skin cooling) that are still used in sports medicine today.
Through her career Dr. Travell published more than 100 scientific papers. Her research culminated in her publishing Myofascial Pain and Dysfunction: The Trigger Point Manual with her colleague Dr. David G. Simons. The two-volume textbook has served as a reference for the treatment of millions ever since. The cause of MPS still isn't known, and research continues in this field.
Dr. Travell continued working, teaching, and practicing medicine until she passed away on August 1, 1997. She's quoted as saying, "I have lived in a very special world - a world of love and security; beauty and serenity; opportunity, adventure, and variety; challenge and achievement; and the appreciation of my peers. I have had a sufficiency of everything that I desired and a surfeit of nothing."
If you want to dive into more about the myofascial expert and the first woman Physician to the President, Dr. Travell's daughter, Virginia, wrote a book about her, "Janet G. Travell, MD: A Daughter's Recollection."
P.S. in case you're wondering, Dr. Travell was not the only female Physician to the President. In June 1992, Dr. E. Connie Mariano was appointed, the first military woman in American history to serve as Physician to the President. The current Physician of the President is Dr. Kevin O'Connor, who President Biden appointed on January 25, 2021.