Legacy and Excellence: Celebrating Black Stories
Posted: February 22, 2021
To celebrate black excellence and legacy during Black History Month, we asked our staff to recommend books, movies, and other media created by black writers and scientists. From science fiction to climate change to astrophysics, our team has a STEM-filled list of suggestions for you to explore. So here they are, in their own words. Enjoy!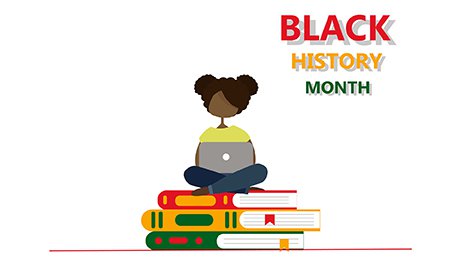 Image credit: Getty Images
Timshel Purdum, Director of Playful Learning and Inquiry
"This is the way the world ends ... for the last time." That quote from N. K. Jemisin's award-winning book is powerful, and sure to pique interest. The setting takes place in a world where geologic upheaval is the norm. Think plate tectonics, but on a scale so severe that they are known as seasons by its inhabitants. This book was so different from anything else I've ever read, and I read a lot of science fiction! The world-building was incredible, and the characters are so rich and multidimensional, too. The way Jemisin builds their history and futures blows you away.
Dr. Jeremy Hoffman, Chief Scientist
Mary Annïse Heglar's selected works of environmental journalism
Heglar is a nationally recognized climate and environmental essayist whose work delves into the intersectionality of climate change impacts by extending the discussion into the realms of social justice, politics, food, and many other topics. She was awarded a 2020 SEAL Environmental Journalism Award in "recognition of her work to bring climate knowledge, justice, and action to the forefront of public discourse." I've found her contributions to climate change coverage incredibly moving at the human level while also being scientifically rigorous and engaging.
Elli Bosch, Science Content and Research Specialist
The Untapped Genius That Could Change Science for the Better
Dr. Jedidah Isler is an astrophysicist who defines her life as being lived in the liminal space "between dreams and reality, race and gender, poverty and plenty, science and society." She was the first black woman to earn a Ph.D. in astrophysics in Yale's then 312-year history. In her 13-minute TED Talk from 2015, she impresses the importance of intersectionality in science. She is inspirational, and reminds people that scientists don't fit into a single category.
Dr. Catherine Franssen, Scientist in Residence
This book by Margot Lee Shetterly is even more than the untold story of the black women mathematicians who helped America win the space race; it is an immersive dive into the lived experiences of intelligent, educated black women in Virginia in the 1930s through 1950s. The book delves deeply into historical facts and the biographies of these women at a pace that is engaging and readable. The movie captures the essence of the driving story of the book in a condensed time frame, and because of its PG rating, is a great way to open the door to important conversations with the whole family. I highly recommend both!
Kathleen Sams, Science Museum of Virginia Foundation Grants Officer
This Octavia E. Butler novel was published in 1993, yet it feels eerily prescient in 2021. Set in California between 2024 and 2027, the story describes a country in which states have closed their borders, an early-season hurricane has killed 700 people from Florida to Texas, and a female astronaut has died. The effects of human-created climate change include deadly tornadoes, a measles epidemic, polluted water, rising sea levels, and a lack of rain. Butler's language is beautiful; her story is frightening. Today more than ever, we need to consider the pain of our fellow human beings. We need community. And we need a conscience regarding each other and the planet we inhabit. We can't let the world Butler imagined decades ago become our reality. This book is a powerful motivator to do the hard things now, together, while there is still time.
Hunter Mass, Group Adventures Associate
All We Can Save is a collection of essays and poems from more than 40 women and women of color at the forefront of the climate movement. The collection (also available as an audio book and e-book) is edited by Dr. Ayana Elizabeth Johnson, a marine biologist, and Dr. Katharine K. Wilkinson, a climate activist. These essays provide a myriad of thoughts on the climate crisis, and range from sociological conversations, to climate justice, to policy discussions, and more. The collection is also tied to The All We Can Save Project, an organization uplifting the voices of women in the study and response to the climate crisis.
Binti won the Hugo Award and the Nebula Award for Best Novella, and jumpstarts an Afrofuturist space adventure from Nnedi Okorafor. The series follows Binti, who is the first of the Himba people to be offered a place at Oomza University, the galaxy's best educational institution. What follows is a space adventure with plenty of heart, style, and questions about what it really means to be home. Binti, Binti: Home, and Binti: The Night Masquerade, are well worth the read, and due to their novella formats, are quick to get through. The Binti series is a great starting point for anyone who wants to read more Afrofuturist literature, which revolves around the intersection between technology and the culture of the African diaspora.
Jim Blow, Administrative Coordinator
Astrophysics for People in a Hurry
Dr. Neil deGrasse Tyson has a gift for explaining complicated cosmic concepts in a way that anyone can understand, and this little book delivers on its premise. Tyson explains dark matter, the electromagnetic spectrum, and even some cosmic chemistry in brief chapters that make for a fascinating read on your lunch break.
What are you reading and doing to celebrate Black History Month? Have you enjoyed any of these staff recommendations? We'd love to hear from you! Connect with us on social and let us know.